The African Continental Free Trade Area (AfCFTA) and the need for trust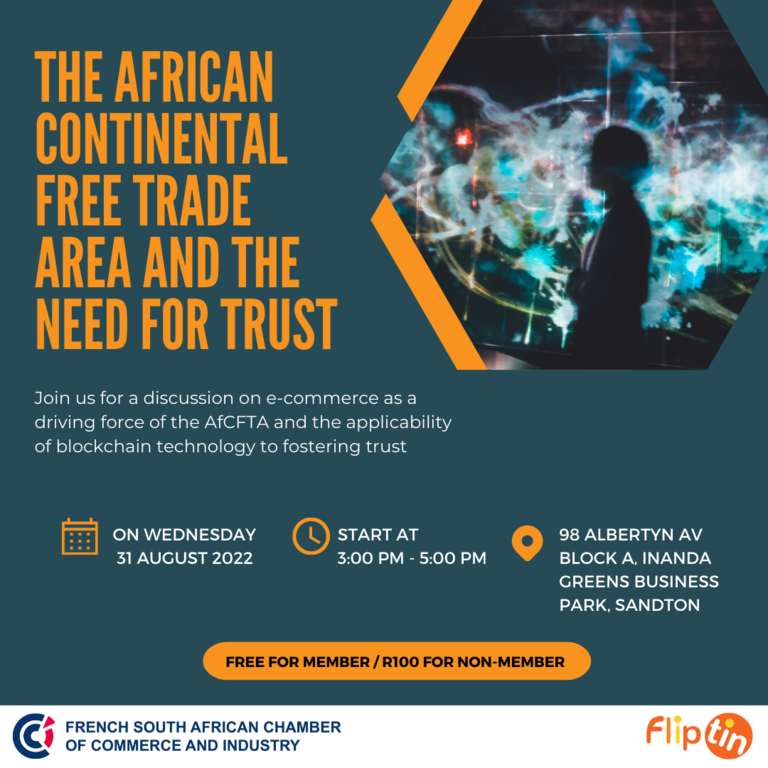 Join us for a discussion on e-commerce as a driving force of the AfCFTA and the applicability of blockchain technology to fostering trust.
The FSACCI in collaboration with Fliptin will host a discussion around "The African Continental Free Trade area and the need for trust" with a guest of honor Dr Alastair Tempest, CEO of both the E-commerce Forum Africa and the E-commerce Forum South Africa.
In March 2018, African countries signed a landmark trade agreement, the African Continental Free Trade Area Agreement (AfCFTA), which commits countries progressively to remove tariffs on goods and liberalize trade in services. If successfully implemented, the agreement will create a single African market of over a billion consumers with a total GDP of over $3 trillion. This will make Africa the largest free trade area in the world.
Africa urgently needs to develop trade to increase prosperity within the continent. The share of intra-African exports as a percentage of total African exports remains low compared to levels in Europe, Asia and North America. The AfCFTA will be a game changer for stimulating intra-African trade and industry.
We can wonder what does it mean for merchants and consumers who are accustomed to dealing with partners that they know and trust?
Trust is also important in blockchain; the blockchain technology has given rise to a new platform for business relationships. It creates a new basis of trust for business transactions that could contribute to a considerable simplification and acceleration of the economy.
Lee Chana, partner at Fliptin and co-founder of Certtin will be speaking about trust using Blockchain.
This event will be followed by our monthly networking event .
EVENT DETAILS:
Date: Wednesday 31st August from 15:00 to 17:00
Venue: 98 Albertyn Avenue Block A, Inanda Greens Business Park, Sandton
Entry: Free for Member / R100 for non-Member