BEAUJOLAIS NOUVEAU: Set to be a great harvest this year!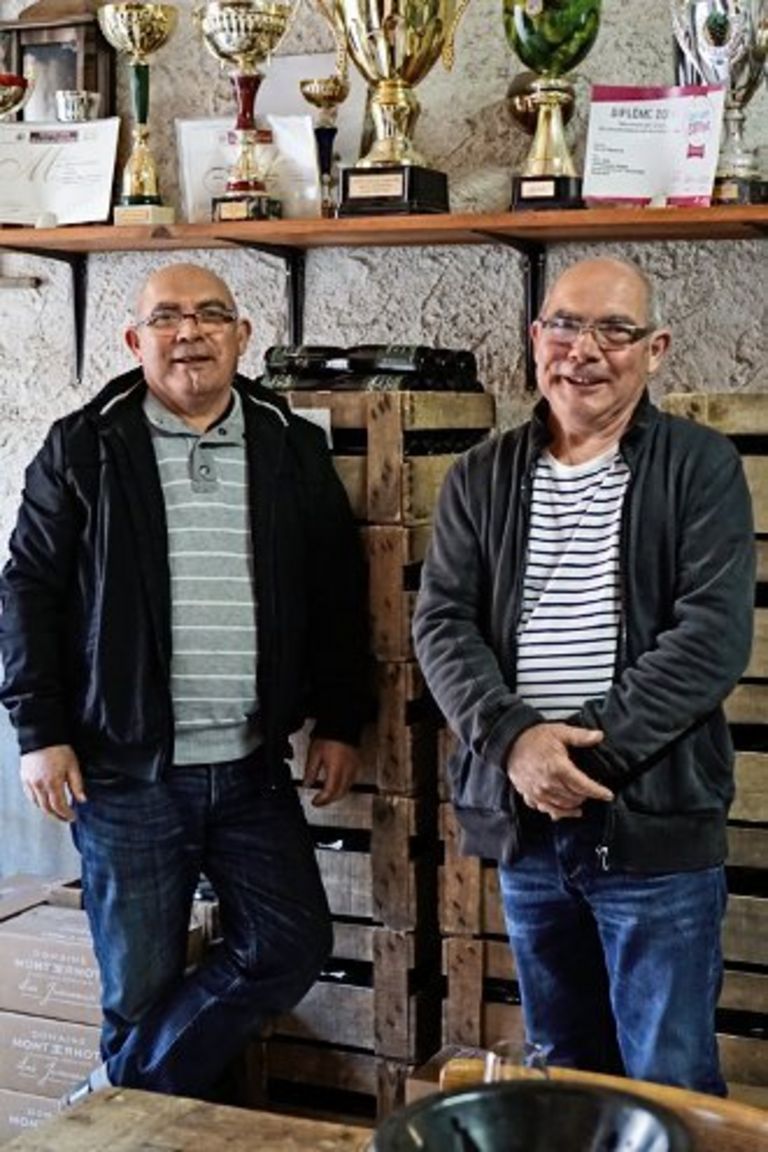 It's a great honour to announce you that our Beaujolais Nouveau will be provided by Le Domaine Monternot - Les Jumeaux. We have it on good authority that this year's harvest is said to have produced great tasting grapes. We are eager to know the results of this mysterious wine!
Introduction of "Domaine Monternot – Les Jumeaux"
This domaine has been serviced by four generations of the same family – today it is brothers, Jacky and Bernard Monternot, who work the 12 hectare domaine – "We do everything in the family. Everything starts with the training of the vines, from A to Z, all is important!"
They have some very old vines, 3 parcels averaging 95 years old. The team also grow grass between their rows of vines – "So we don't need to use herbicides!""We attach a lot of importance to the grape maturity and phenolic maturity. We make many analysis, and in each parcel, but we still always pick based on taste as we don't like aggressive acidity. At one time we did our elevage in foudres of oak, but the wines were too often accused of tasting like Côte de Nuits villages!"
They drink their wines here with 30 years of age on the label – in bigger bottles too – but that's how they like it! Beaujolais Villages-à-Gard seems a concept that is lost – but not here. A super address with ridiculously low prices. They also make a 'nouveau' here but 'larger constructed!'
The wines…
What a beautiful set of wines. There's just so much to offer from this domaine! They also recommend that you should open these an hour before consuming as there's often a light reduction.
2013 Beaujolais Villages les Jumeaux
They've made this cuvée since 1981…'A really long' cuvaison with partial destemming. Actually just 12 days, but with up to 35°C to aid the extraction. 2 years of elevage but make batonnage in big concrete tanks with some enamel coating. They don't like the static that comes with stainless-steel, they also don't do more than 12 days cuvaison as they 'don't want the flavour of the stems to come through.'

Wow that's an impressive colour. Deep aromas, like the colour, dark fruit but with generosity and it invites tasting, almost an olive note in there. Big in the mouth, plenty of tannin too. The flavour is wide with a little bitter olIve impression here too – but the finish is lovely, wide, fresh and floral – and the serious side will wait.
2011 Beaujolais Villages les Jumeaux
We're not tasting the 12 as it was heavily hailed – more than 50% – and the old vines anyway produce only 30hl/ha without hail.
Deep colour, and not just that, it looks a very young colour too. Concentrated nose, no bitter olive here, really inviting dark fruit. Supple, intense, layered flavour. Can you get better Beaujolais Villages? This is just a seriously great wine, but not too serious! Hard to believe that this costs just €8 – and that's after a small price increase.
2009 Beaujolais Villages les Jumeaux
The colour has just a suggestion of age yet still young. The nose is gorgeous – wide, not super-deep but a very sleek and shiny dark fruit. Supple, really super texture only slowly growing a little extra tannin. The flavour comes in nice clean waves – just a really fine wine. Excellent!
2006 Beaujolais Villages les Jumeaux
To see how the wines age with 10 years. The maceration was just a little shorter at this time.
Not such a forceful colour or aroma – but what and aroma of silky ripe fruit, lightly floral. Gorgeous in the mouth, all energy and pretty flavours – good as the 09 is, I'd drink this today. Fine complex fruit and flowers and delivered in a caressing way – bravo finesse and complexity together.
2015 Beaujolais Nouveau
Big, open and bright nose, bright dark fruit. Supple, silky, wide intense. Really a concentrated wine here with fine intensity and a very well-managed tannin. The tannin comes more to the fore after swallowing – here is the difference!
2014 Beaujolais Villages Les Jumeaux Fruit et Terroir
Here is a cuvée where they are looking for 'harmony and balance.'
A deep attractive dark gamay fruit. Supple, silky wine with only a slowly growing base of tannin – layers of flavour. A nice growth of flavour in the finish too and it's a long finish. A wine you can very-much appreciate already, but I'd wait another 2-3 years.
2014 Beaujolais Villages Les Jumeaux Fruit et Terroir
Not long bottled and not yet commercialised. Normally presented at 'portes ouvertes' at the domaine at the end of April.
Massive colour. Not the most overt nose, but this is clearly ripe and fresh at the same time. Big in the mouth, but not with a massive concentration – there's a good balance here. More fruit than flowers today, but wait, you probably ought to wait 10 years ???? ah the flowers come just in the finish – tons of potential here!