Our partner Work & Co Cape Town: Offices to Rent
Our Business Centre in Cape Town with Work & Co

A permanent presence in-country is pivotal to creating opportunities and gaining market share.
We offer offices to rent in Cape Town on a daily and monthly basis, as per your needs, with our partner Work & Co.
What is Work & Co ?
With the intent to provide a platform that prioritises business growth and member engagement, Julien Verspieren created Work & Co in March 2016, a versatile & innovative co-working space. Work & Co offers a wide variety of private and shared office spaces as well as meeting rooms - all showing-off beautiful, uninterrupted views of Cape Town. A stylish, tech-advanced and fully operational office space made up of small to medium sized businesses, freelancers, entrepreneurs and like-minded thinkers, make for a progressive work environment.
Discover the offices of our partner in CAPE TOWN - Work & Co

CONTACT LE BOOSTER

Request info from FSACCI: business@fsacci.co.za
Visit Work & Co
11th – 14th floor Touchstone House,
7 Bree St,
Cape Town, 8001
>>>> More info on Work & Co Website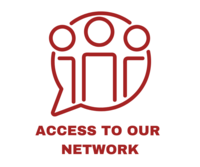 Benefit from our network
Our partner in Cape Town - Work & Co is also FSACCI address in Cape Town. We organise events there and use the offices to receive members. It is a place where fellow members visit and many of our events take place. You'll rub shoulders with other Cape Town - Work & Co members, sharing tips and tricks as well as an open-plan space.