Members' Benefits
But first, why become a FSACCI member?
Be a part of the most dynamic Franco-South African business platform in South Africa.
Discover the French South African Chamber's unique offering to access, exchange and network with business leaders in South Africa:
5000 Business Contacts
+ 200 Corporate Members
25 Platinum Members
Sectoral Committees
The Benefits
The FSACCI member levels revolve around 3 main benefits from member companies:
Business connections
Experience & expertise sharing
Visibility

The abovementioned benefits are at the heart of our 3 main activities which are:
NETWORKING EVENTS
90% of these are workshops, and as a result of the COVID-19 pandemic, mostly take place online (i.e. webinars).
Physical events will only take place during those times when virus transmissions are low with all government-prescribed protocols adhered to.
Particular priority is given to experts within the network to share their experience and inputs to fellow members.
BUSINESS SERVICES
FSACCI has a broad network of members and access to many outside the network within a wide range of sectors.
With this, members are encouraged to reach out to our Head of Business Services, Sandrine Winder-Wolf when they are in need of a recommendation for a service provider or expert in a specific field and/or topic.
Particular focus is placed on immigration and visa matters where we can connect you with FSACCI member and immigration consulting experts.
COMMUNICATIONS
Because of the tremendous value we place on increasing the visibility of FSACCI members within and beyond the network, we share member projects, events, tips, current affairs, and publications on our social media networks and weekly newsletter.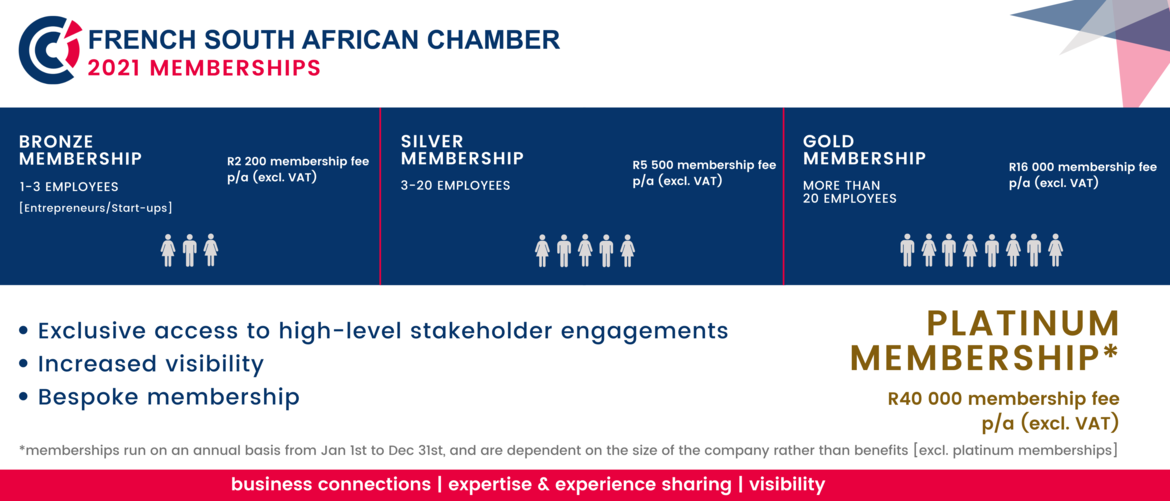 Three basic levels, depending on the size of the company and offering the same benefits to all members:
Bronze = Entrepreneurs (R2,200 excl. VAT)
Silver = SMEs (R5,500 excl. VAT)
Gold = Large companies (R16,000 excl. VAT)

These basic levels give access to our business platform that promotes business connections, expertise-sharing and provides visibility to our members through a wide range of networking workshops and events, business services and various communication channels.
---
In addition to the basic membership benefits, this level offers:
Increased visibility in our newsletter, events and communication platforms (platinum banner showcased everywhere)
Access to exclusive high-level stakeholder engagements (platinum breakfast, private lunches, workshops)
Priority to publish articles in our newsletter/ on our social media
Priority to have speakers on our webinars and event panels
Bespoke projects/ events based on your interests and needs
Unlimited number of associated members
---
Benefit from our expertise
To discuss further your project and confirm the right membership based on your needs,
Contact us