Participate in the 5th edition of the famous FSACCI Pétanque Cup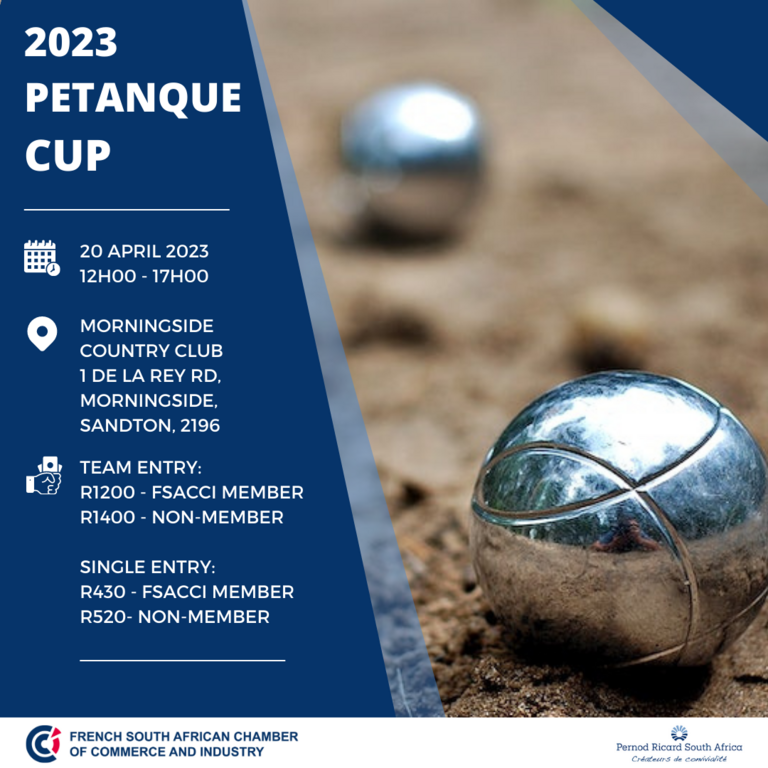 Join us for the 5th edition of the famous FSACCI Pétanque Cup taking place at Morningside Country Club on Thursday 20th April 2023.
Event Details
Date: Thursday 20th April 2023
Time: 12:00 - 17:00 SAST
Venue: Morningside Country Club | 1 De La Rey Rd, Morningside, Sandton, 2196
Fees:
Team Entry (3 players)
R 1200 for Members (excl VAT)
R 1400 for non-Members (excl VAT)
Single Entry (1 player)
Subject to availability
R 430 for Members (excl VAT)
R 520 for non-Members (excl VAT)
Terms & Conditions
> Once registered to the event, the FSACCI team will contact you to send you an invoice according to the number of players.
> Full payment is required before the event. Failing to do so will automatically cancel your registration.
> No refund will be issued in respect of a cancelled purchase or no-show.
> Tickets are transferable but cannot be resold or offered for resale without FSACCI's expressed consent.
> By participating to FSACCI's Pétanque Cup, you consent to being filmed, photographed, videotaped, or otherwise recorded, and that your name, voice and likeliness may be broadcasted, displayed or distributed (commercial or otherwise) without any compensation being paid to you.
THE ART OF PÉTANQUE
For those who still don't know, Pétanque is a French outdoor game played by two opposing teams trying to throw boules (metallic spheres the size of an orange) as close as possible to a 'cochonnet' (little wooden sphere the size of a plastic bottle cork, meaning piglet). At the end, the team with the boule closest to the cochonnet scores one point for each of its boules that is closer than the opposing team's closest boule.

First time playing? Don't worry, no experience required you will learn as you go!
For any questions, contact events(@)fsacci.com