On the occasion of the "AI Expo Africa" join us for a morning discussion around AI with our members L'Oréal and Fliptin Technologies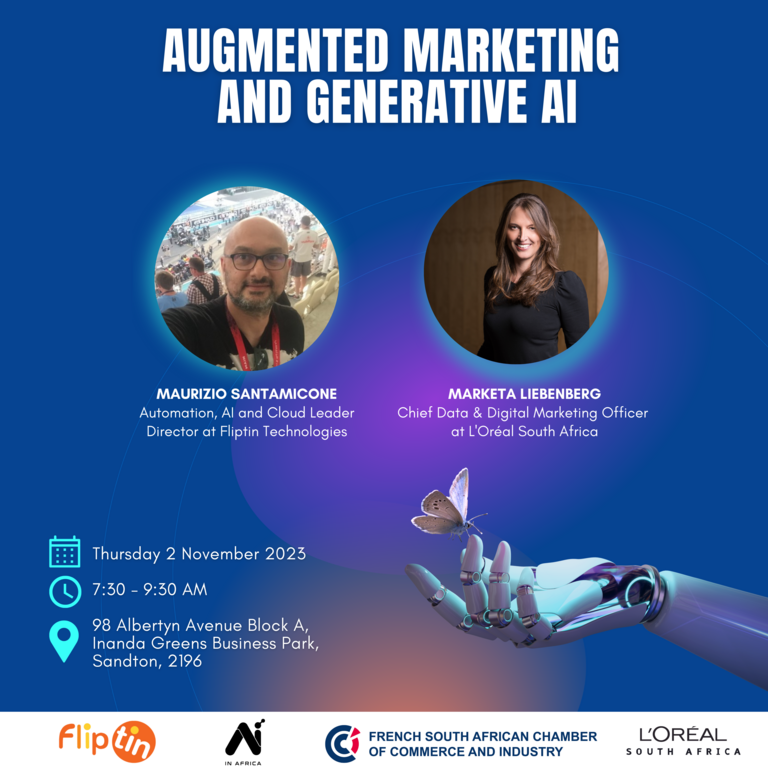 On the occasion of Africa's largest Enterprise AI trade show "AI Expo Africa" that will be hosted in Sandton on 2-3 November 2023, the French South African Chamber of Commerce & Industry will host a networking event on Thursday 2nd November to bring together members and companies interested in AI topics.
During this event, we will have the privilege of welcoming two of our members to discuss key issues:
Marketa Lebenberg, Chief Data & Digital Marketing Officer at L'Oréal South Africa who will discuss "Augmented Marketing", which covers how Generative AI is assisting in various areas to drive ideas, enhance efficiency, and make an impact within a marketing-driven organization like L'Oréal.
Maurizio Santamicone, Automation, AI and Cloud Leader and Director at Fliptin Technologies will speak on using Generative AI to automate digital marketing campaigns, and how it can empower marketers to automate various aspects of content creation, saving time and resources for faster time-to-market.
These presentations will serve as an introduction to the AI Expo Africa, Africa's Largest Artificial Intelligence & Intelligent Automation Trade Show & Conference.
Event details:
Thursday 2 November 2023
From 7h30 to 9h30
At FSACCI Office, 98 Albertyn Av, Inanda Green Business Park, Sandton, 2196
For any questions, contact events@fsacci.com