Join us to joint discover Botswana Investment Opportunities !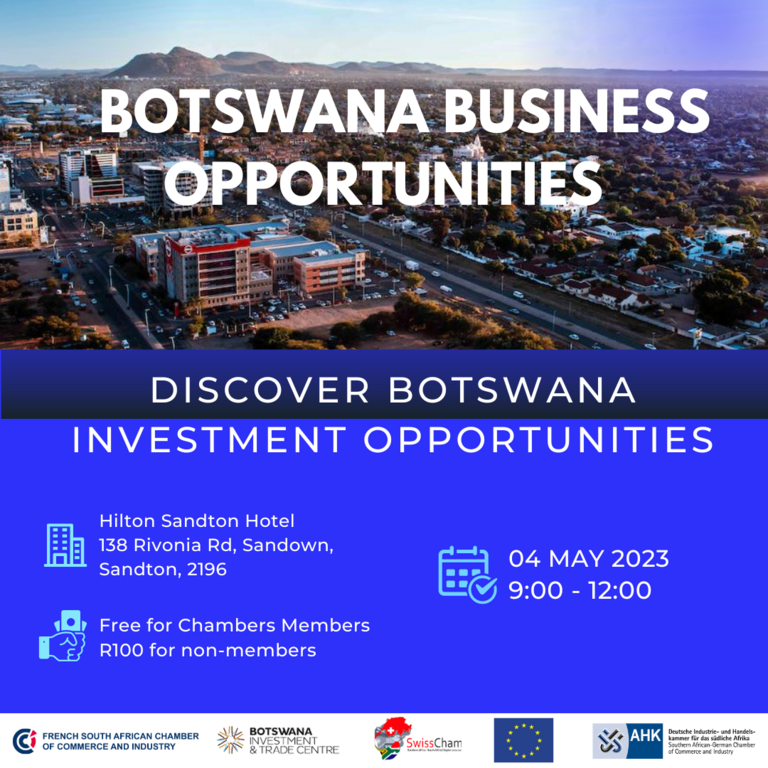 The French South African Chamber of Commerce & Industry, the SwissChamber Southern Africa, the Southern African-German Chamber of Commerce and Industry, the EU Delegation in Botswana and SADC, as well as the Botswana Investment and Trade Centre (BITC) are pleased to announce our joint event "Discover Botswana Investment Opportunities." This event is being hosted in anticipation of the EU Botswana Business Forum (EBBF) and the Global Expo Botswana (GEB) in October 2023.
Members of the EU Delegation, BITC members, the EBBF technical team (GOPA), and corporate representatives from various chambers of trade will attend the networking event. The goal of this event is to look at business development potential in Botswana.
The event is a great chance for delegates to acquire insights into Botswana's current business climate as well as learn more about the EU Botswana Business Forum and the potential for trade and investment that it affords.
EVENT DETAILS:
Date: Thursday 4th May 2023
Time: 9:00 to 12:00
Venue: Hilton Sandton Hotel, 138 Rivonia Rd, Sandown, Sandton, 2196
PROGRAMME:
9:00 – Arrival & Welcome
9:30 – Opening & Introduction (EUD Mrs Delphine Aupicon / Chambers of Commerce)
9:50 – Presentation of the Investment Opportunities in Botswana – BITC Mr Omphitlhetse Bobo Senosi
10:20 – Presentation of the EU Botswana Business Forum – EBBF technical team (GOPA) Mr Michel Lepropre
10:30 – Presentation of the Global Expo Botswana - BITC Mr Dipopego Julius Tsheko
10:40 – Q&A session
11:00 – 12:00 Networking
For any questions, contact events@fsacci.com