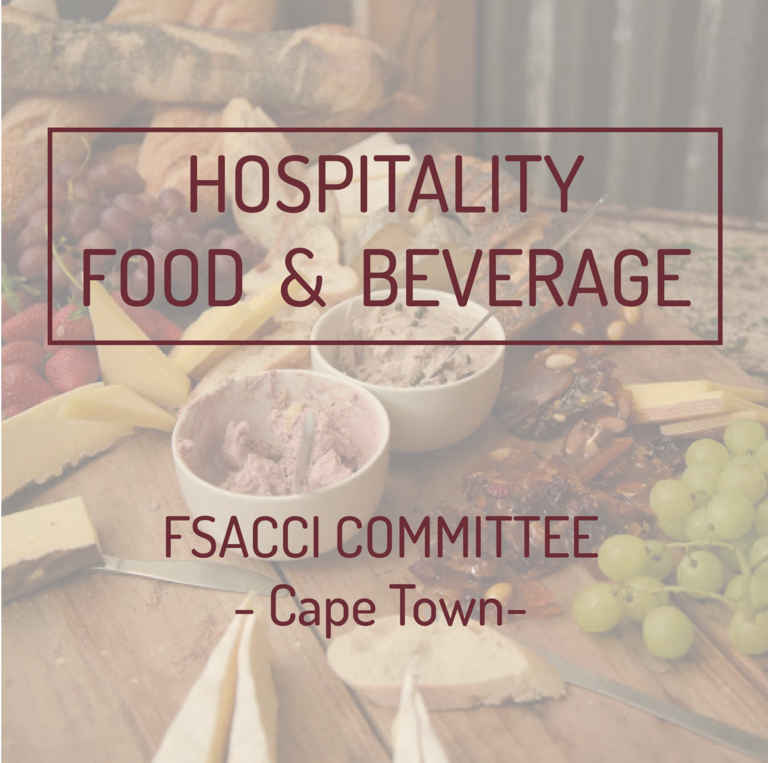 ABOUT THE COMMITEE
This Committee is an opportunity for Hospitality and F&B representatives (Wine importers and producers, Food importers and producers, Hotels/restaurants, Venues, Retail and Logistics) to discuss common topics: distribution, marketing, certain aspects of rules and regulations. The goal of the Committee is to exchange views* on the market, gives/receives advice and creates synergies between members on common issues.

*COMPETITION ACT NOTICE
In terms of FSACCI's rules, FSACCI members are required, at all times, to ensure that they are fully compliant with the Competition Act. In this regard, FSACCI and its members will not engage in any discussion, activity or conduct that may contravene any provisions of the Competition Act. In particular, members shall not discuss, communicate or exchange any commercially sensitive information, including non-public information relating to prices, marketing and advertisement strategy, costs and revenues, trading terms and conditions, purchasing strategies, terms of supply, or distribution strategies. This applies not only to interactions in the context of formal Committees meetings but also to discussions, communications or exchanges between members before, during or after Committees meetings.
TOPIC

> Promoting Food & Beverage products in an Exhibition Environment
How to be different and innovative to promote Food & Beverage products during a local or international exhibition? How much to invest for what ROI? What marketing/sales objectives to expect? What are the do's and don'ts to keep in mind to be successful in such a challenging environment?

SPEAKER

> Chrisna VAN STRAATEN, Branch Manager CAPE TOWN @ GL Events

DATE & TIME

Wednesday 6th June
7.30AM to 9.00AM
REGISTRATION

REGISTER


VENUE

" The 41"
41 Victoria Rd
Camps Bay / Cape Town

FEE

Free for FSACCI Members & Friends


FOR FURTHER INFORMATION
Please contact our Cape Town Coordinator, Alexandre Barrière Izard at (081) 858 3858 or capeadmin@fsacci.co.za

TERMS AND CONDITIONS
Full payment is now required upon registration. Failing to do so will automatically cancel your registration. Should you need to cancel, please do so no later than two working days before the date of the event. No shows will not be refunded. Please note that photographs and videos may be taken during the event for news and publicity purposes.