Don't miss out on the 3rd and special edition of the Internet of Everything Africa in partnership with two of our Platinum Members, Fliptin Technologies and EDF South Africa!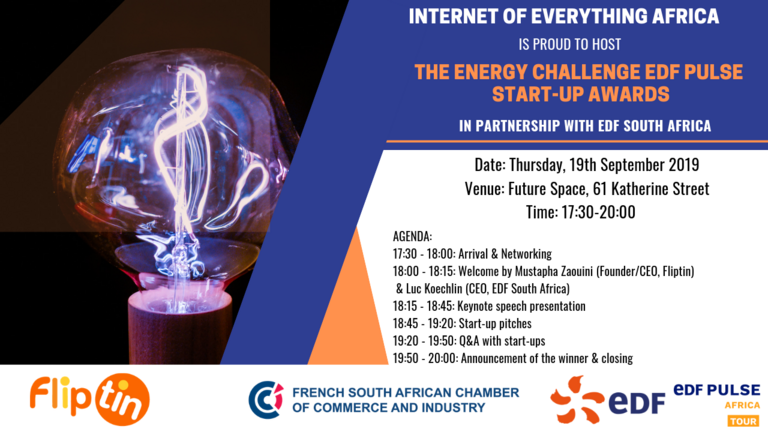 Our Internet of Everything Series, spearheaded by our Platinum Member Fliptin Technologies, continues!
The Internet of Everything, Episode III, will be held on Thursday 19th of September 2019
IoE Africa in Partnership with EDF, Fliptin and FSACCI is proud to host , EDF Pulse Startup Awards, Energy Challenge. These Awards are an opportunity to support and assist African innovators playing a role in energy development.

17:30 - 18:00 Arrival & Networking
18:00 - 18:15 Welcome by Mustapa Zaouini (Founder/CEO, Fliptin) & Luc Koechlin (CEO, EDF South Africa)
18:15 - 18:45 Speech by Dr Raj Naidoo(Professor at the University of Pretoria, Specialized in Electrical, Electronic and Computer Engineering)
18:45 - 19:20 Start-up pitches
19:20 - 19:50 Q&A with start-ups
19:50 - 20:00 Announcement of winner & closing
Event Series:

The Internet of Everything provides the opportunity for aspiring start-ups to pitch their ideas to top French and South African Companies. This is a great opportunity to provide a platform for tomorrows innovators. This series also aims to bring together the incubators, corporates and idea generators.
Join us to meet start ups, tell us about your story or contribute to the conversation!
>> To get involved as a panel speaker, as a start-up, or suggest a topic, please contact our event manager, Amy Ashworth here!