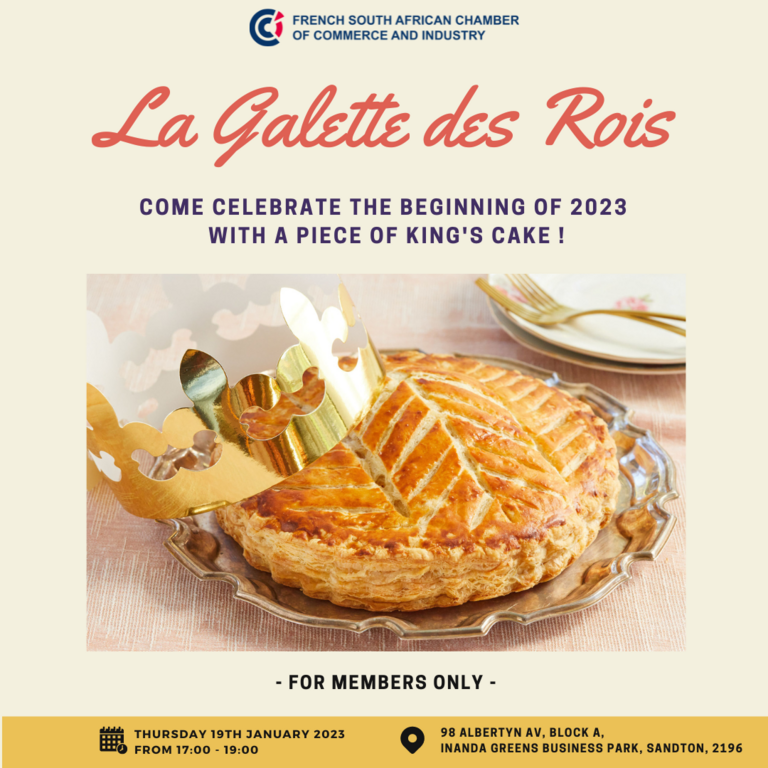 To celebrate the beginning of the new year, the FSACCI would like to invite its members to a networking event after the festive period over a piece of cake and drinks.
We would be delighted to see you for the traditional "Galette des Rois" – called the King's cake on Thursday, January 19th from 5:00 to 7:00 pm at the Johannesburg FSACCI office.
What is the Galette des Rois ?
The Galette des Rois (or the King's Cake) is a cake traditionally shared on January 6, the day of the Epiphany. It is made of puff pastry, in which a bean/figurine is hidden, and is filled with frangipane (cream made of sweet almonds, butter, eggs and sugar). The person who gets the hidden item becomes the king or queen for the day.
Event details:
Date: Thursday, 19th January 2023
Time: 5:00 to 7:00 pm
Place: 98 Albertyn Av, Block A, Inanda Greens Business Park, Sandton
Entry: Free event reserved for FSACCI members.
Kindly confirm your presence ASAP - limited space available.
The right to the image allows you to authorize the reproduction and the public diffusion of your image. By registering, you accept the right to image during this event. If not kindly contact events@fsacci.com .
Note: if you register and do not cancel 24h ahead, we will apply a cancellation fees of R50 / person.