Join us for a panel discussion with experts from large companies, venture capital, start-ups, to decision-makers and tech lovers !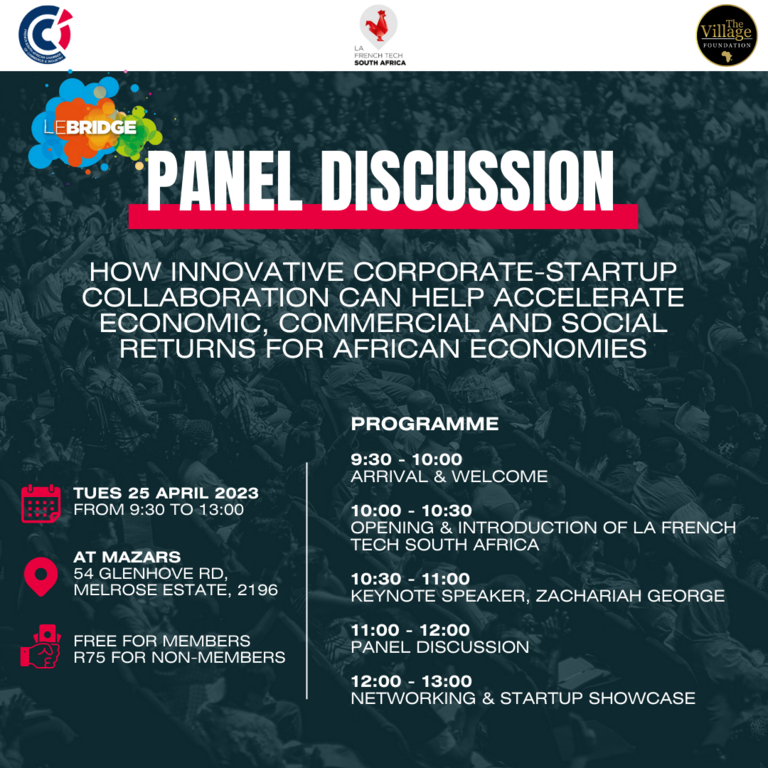 The French South African Chamber of Commerce & Industry along with the French Tech South Africa, are co-hosting a panel discussion at Mazars South Africa on April 25th to discuss "How innovative corporate-startup collaboration can help accelerate economic, commercial, and social returns for African economies."
This event is the first edition of #LeBridge in South Africa, a B2B event dedicated to bringing together start-ups and large companies. The aim of this event is to enable companies to learn more about different business cultures and explore ways and means to foster innovation.
The discussion will include a panel of experts from large companies, venture capital, to decision-makers, start-up builder and innovation lovers. It's a unique occasion to create concrete opportunities between start-ups and large companies and to establish close relationships between two different but complementary realities.
We will use this event as an opportunity to announce the relaunch of La French Tech South Africa and introduce the new government team.
Programme:
9h30 – 10h00 Arrival & welcome
10h00 – 10h30 Opening & introduction of La French Tech South Africa
10h30 – 11h00 Keynote speaker – Zachariah George
11h00 – 12h00 Panel discussion
12h00 – 13h00 Networking & startup showcase
Panelists:
Zachariah George - Managing Partner at Launch Africa Ventures
Amandine Robin - CEO & founder at Matters / Vice-president at French Tech
Carol-Anne Grimshaw - Sector and Market Intelligence Manager at Saint-Gobain
Talitha Sachane - Corporate Affairs and CSI Manager at TotalEnergies
João Barreto - Head of Innovation & PMO at Nestlé
Nomfundo Xaba - Stakeholder Relations Executive at The Village Foundation
Moderator:
Kieno Kammies - Co Founder at Innovation City Cape Town
Entrance fee:
Maximum 2 participants per company Bronze / Silver / Gold
Maximum 3 participants per company Platinum
R75 per person for non-member
Maximum 2 participants per company non-member
By registering non-members commit to pay the fee by bank transfer or by bank card.
Failing to do so will automatically cancel your participation.
Event details:
Date: Tuesday 25th April 2023
Time: 9h30 to 13h00
Venue: At Mazars South Africa, 54 Glenhove Rd, Melrose Estate, Johannesburg, 2196
For any questions, contact events(@)fsacci.com