Let's look beyond the electricity crisis and join us to discover alternative options to ensure your business keeps running -with the lights on!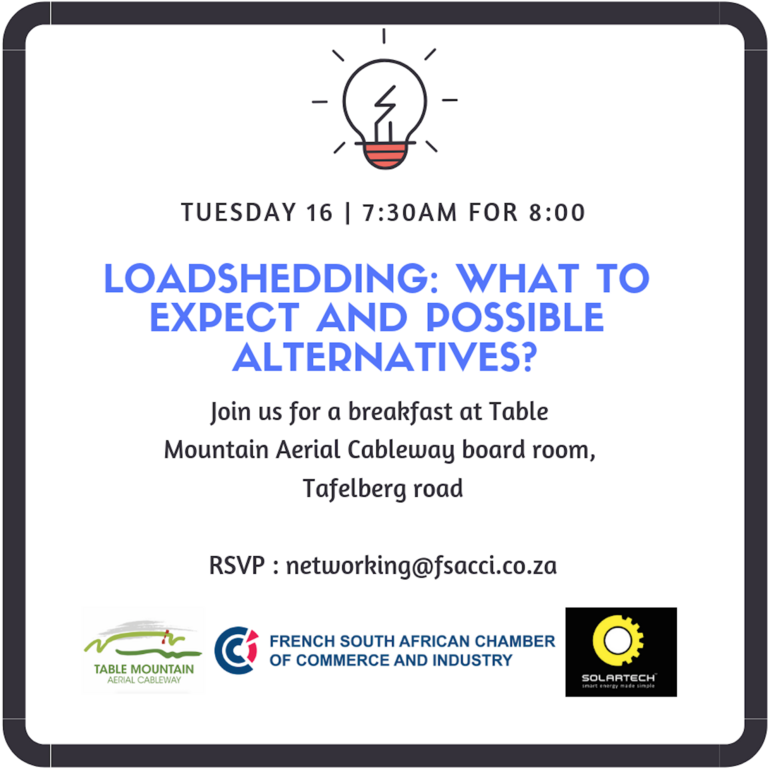 Did you know that on 1st of April, the price of electricity increased by 14%? Last month, the National Energy Regulator of South Africa (NERSA) granted Eskom consecutive increase allowances amounting to 23% by 2022. Eskom is facing a debt now exceeding R420 Billion and one may expect more loadshedding over the next year as the situation will take time to improve.
What can we expect over the next 6 months? What are the risks with the loadshedding for SME's? Generators, batteries, Solar systems... What could be the alternatives and for what ROI?
Jacques Van Der Merwe (SOLARTECH) is an accredited service provider for City of Cape Town and is an energy specialist for green alternatives such as solar systems. Jacques will present us the Eskom situation and the potential alternatives during 40 minutes and will also answer your questions.
SPOTS ARE LIMITED (20 PEOPLE)
Find out more about SOLARTECH
Find out more about TABLE MOUNTAIN AERIAL CABLEWAY
Date: Tuesday 16 April
Time: 7.30am for 8.00am
Fee: Free
Address: Table Mountain Aerial Cableway board room, Tafelberg road, off Kloof Nek Road
No parking provided, parking along the road, we recommend using Uber.
A light breakfast will be served (hot/cold drinks and croissants).
Register here or with the above register button.
If you have any question, please contact Eloi (networking@fsacci.co.za)