Brought to you by Oxalys South Africa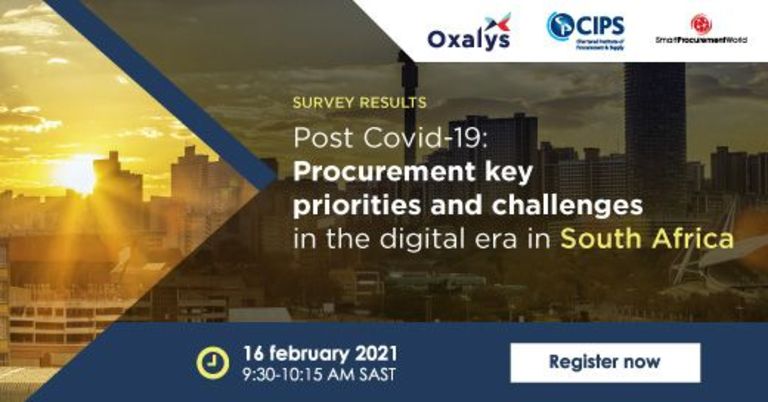 Oxalys, procurement solutions software provider, has the pleasure of sharing with you the results of its 1st annual survey on Procurement trends and priorities recently launched and carried out in partnership with CIPS and Smart Procurement World.
The survey has gathered more than 220 responses. A strong engagement which reflects the expectations of Procurement and Finance departments in this context of global crisis.
Webinar: « Post Covid-19 : Procurement key priorities and challenges in the digital era in South Africa ».
Tuesday the 16th of February 2021| 09:30 AM - 10:15 AM SAST
The webinar main topics:
• Key findings
• Overview of Procurement in South Africa.
• Key perspectives of Procurement in 2021
• Current state of digitalisation in Procurement
During the 45 min session, we will guide you through a rundown of the survey's captured outcomes supported by the analysis of procurement and digital field experts. Question time will follow.
The session will be moderated by Debbie TAGG Chief Operations Officer of Smart Procurement World.
About Oxalys South Africa
Oxalys helps companies improve their procurement processes. As a software vendor specializing in procurement management for more than 30 years, Oxalys has been helping entrepreneurs and public entities to digitalize their procurement function and transform it into a true company-wide project.