Brought to you by Work In The City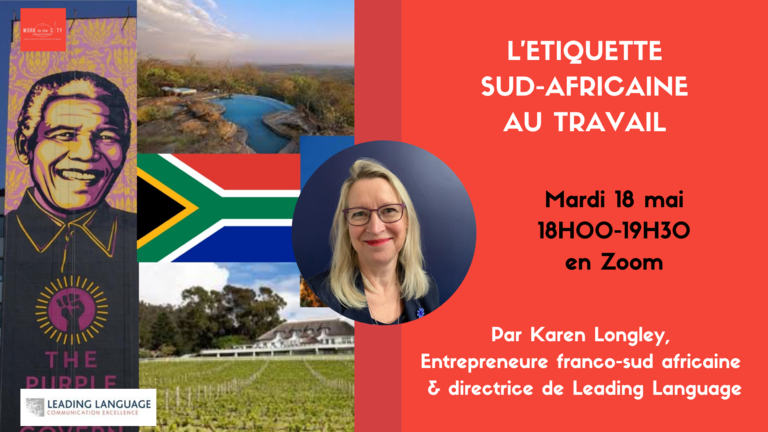 "C'est le plus souvent les différences culturelles les plus subtiles qui engendrent les plus grands défis." Erin Meyer, auteure de "La carte des différences culturelles : 8 clés pour travailler à l'international"
Vous maitrisez de A à Z les subtilités culturelles françaises, belges, canadiennes ou encore en Afrique francophone mais c'est encore difficile en Afrique du Sud ? Que vous soyez complètement perdu(e)s ou que vous ayez déjà quelques (ou beaucoup de) rudiments sur la culture sud-africaine, rejoignez-nous pour cet atelier sur l'étiquette sud-africaine.
Lors de cette conférence, Karen Longley, directrice de Leading Language, vous donnera tout d'abord une vue sur l'Afrique du Sud (Ubuntu, diversité culturelle, Constitution, développement socio-économique, etc.)
mais aussi plus spécifiquement sur :
la culture d'entreprise en Afrique du Sud

comment la communication est la clé du succès

English is king avec quelques spécificités (le "vernac")

Le choc culturel & comment s'y préparer
Envoyez-nous vos questions avant la conférence afin que nous puissions l'orienter selon vos besoins !
In partnership with