Where Business meets Fun for an entertaining afternoon of networking!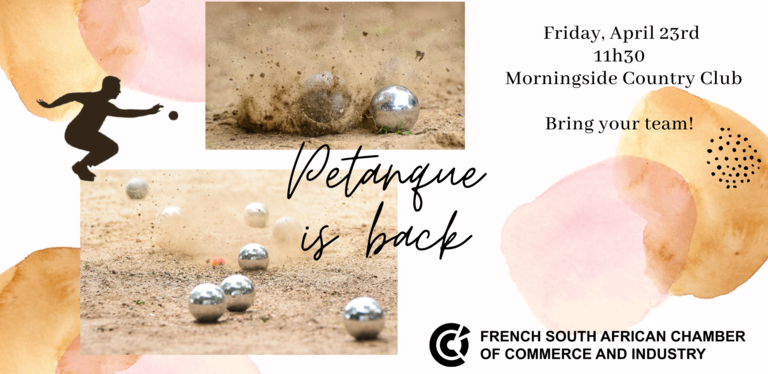 Join us for the 3rd edition of the now infamous FSACCI Pétanque Cup to take place on April 23rd at the Morningside Country Club.

What better way to network and build business partnerships than in a convivial and interactive environment? Be it your first time playing or may you be an aficionado, we promise you an afternoon of fun and networking. So don't forget your business cards!

THE ART OF PÉTANQUE
Pétanque is a French (Provençal to be precise) outdoor game played by two opposing teams trying to throw boules (metallic spheres the size of an orange) as close as possible to a 'cochonnet' (little wooden sphere the size of a plastic bottle cork, meaning piglet).

First time playing? Don't worry, you don't need any prior skills and will learn as you go. Plus, believe us, beginners' luck is real!

Due to the limited number of teams this year:
> Registration is essential
> Please register ASAP to avoid disappointment
> Max. 2 teams can be registered per company
> We encourage you to book online
> Contact us if you require an invoice
> T&Cs Apply - read carefully

FEES
Team Entry (3 players)
R 930 for Members
R 1200 for non-Members

Single Entry (1 player)
Subject to availability
R 340 for Members
R 420 for non-Members
Would you like to use this event as an opportunity to highlight your brand and business?

Have a look at our affordable sponsorship packages below and get in touch with us!
Event Location