A French Chambers in Africa & LEX Africa Partnership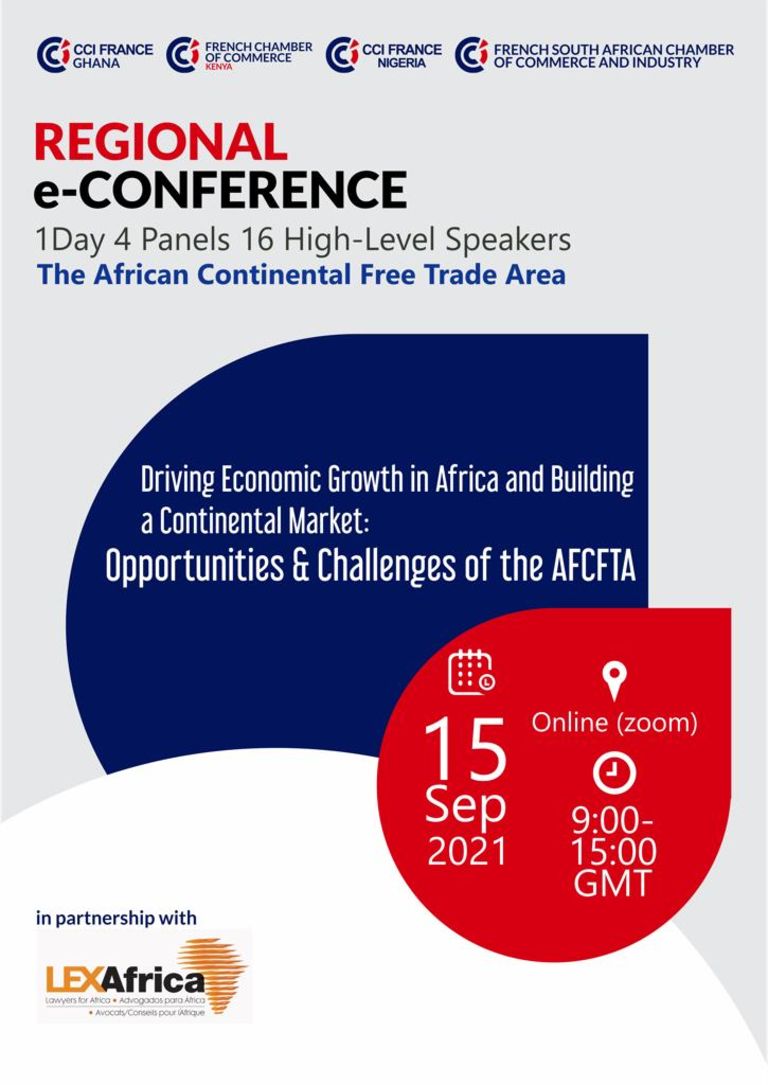 The French Chambers in South Africa, Kenya, Ghana & Nigeria are partnering with LEX Africa, a leading regional law firm network, and other French Chambers in Africa to unpack the implementation and opportunities of the AfCFTA under the theme
'Driving economic growth in Africa through a continental market: challenges & opportunities of the AfCFTA',
as part of an online regional conference to take place on Wednesday 15th of September 2021.
In light of the upcoming African investment conferences and at a time where a drive for economic recovery is needed, this high-level regional event will feature an inaugural panel and 3 regional sessions:
Southern Africa Panel (see below)


IN PARTNERSHIP WITH:

About the Southern Africa Panel
Join us at 14:00 SAST (12:00 GMT) as we unpack the business opportunities unlocked by the AfCFTA and its legal/tax implications in the context of the Southern African Region with experts in the region:
M. Sandile Tyini – General Manager: African Multilateral Economic Relations, Department of Trade, Industry and Competition, Republic of South Africa

Ms Phumzile Langeni – Special Envoy on Investment, Republic of South Africa

Ms. Rooma Narrainen-Pillay – Trade Division Manager, Mauritius Chamber of Commerce and Industry

M. Fidelis Manyuchi, Senior Associate & M. Tapiwa Chivanga, Associate
– Scanlen & Holderness (LEX Africa network)

In partnership with: CCI France Maurice, CCI France Mozambique & the France Botswana Business Club.

REGISTER TO THE SOUTHERN AFRICA PANEL

LEX Africa is a legal network of leading law firms in over 25 African countries and is Africa's largest legal alliance. Each member is an independent law firm whose key specialist focus is on general corporate and commercial law as well as litigation and dispute resolution.
Scanlen & Holderness, member of the LEX Africa network will provide the legal expertise on our Southern Africa Panel.
Scanlen & Holderness is a premier Zimbabwean law firm offering you a full circle of legal services whether you are a local, regional or international client. Our quality of expertise consistently earns us and our lawyers a top ranking in both local and international legal surveys.
IN PARTNERSHIP WITH