Join us for a webinar discussion on International Women's Day on Tuesday 8th March 2023.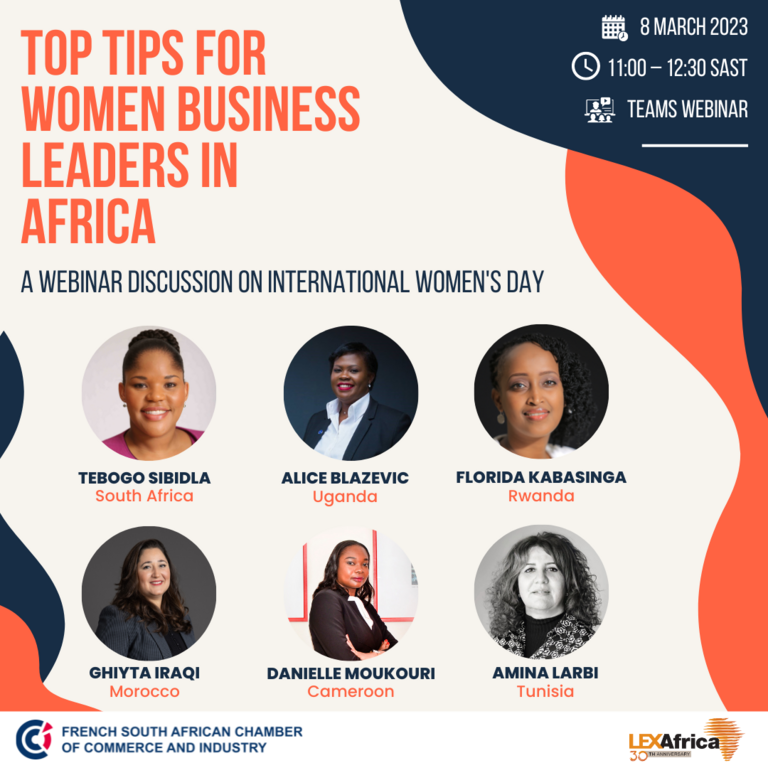 Join 5 of Africa's leading legal ladies as they share how they pioneered, and continue to achieve, success as women in business on the continent.
To celebrate International Women's Day, the French South African Chamber of Commerce and Industry (FSACCI) along with LEX Africa will host a webinar with 6 leading females lawyers representing the African continent.
Established in 1993, LEX Africa is a legal Alliance of leading African law firms managed by South African member Werksmans Attorneys for the purpose of advising local and international clients on their trade, business, investment and other activities in Africa.
This light hearted discussion will lift your spirits and grow your fortitude to continue to build on your goals as the passion and strength unique to women can conquer so much!
The panel discussion will be moderated by Tebogo Sibidla - Werksmans Attorneys (South Africa).
Meet our amazing panelists:
Amina Larbi – Medlar lawyers & Legal Advisors (Tunisia)
Alice Blazevic - Katende, Ssempebwa & Co (Uganda)
Ghiyta Iraqi - I&I Law firm (Morocco)
Danielle Moukouri - D. Moukouri & Partners (Cameroon)
Florida Kabasinga - Certa Law (Rwanda)
We look forward to meeting you online Wednesday, 8th March 2023 from 11h00 – 12h30 SAST for an inspiring and interactive discussion!
Webinar details will be shared upon registration.
For any questions, contact events(@)fsacci.com
Terms & Conditions:
By participating to the webinar, you consent to recorded, and that your name, voice and likeliness may be broadcasted, displayed or distributed (commercial or otherwise) without any compensation being paid to you.