A partnership between French Chambers in Africa & LEX Africa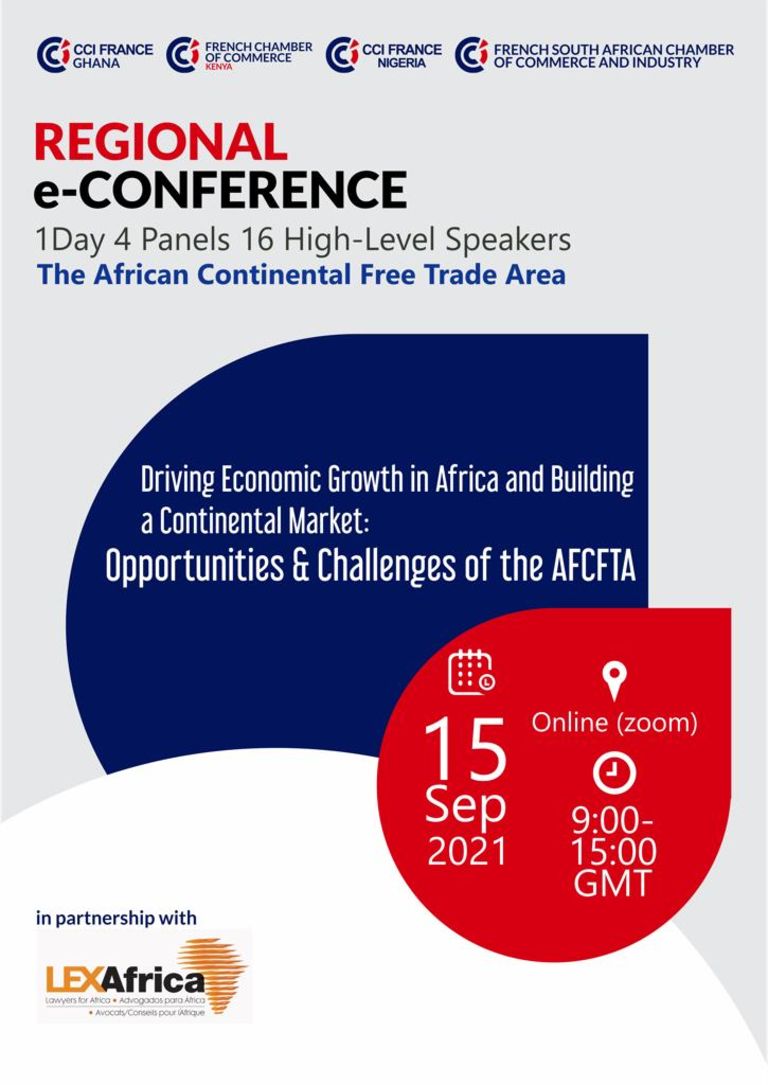 Driving Economic Growth in Africa and Building a Continental Market:
Opportunities & Challenges of the AfCFTA
The AfCFTA, the world's largest free trade area, aims to form a single continent-wide market for goods and services, fostering more trade and investment.
Join us on Wednesday 15th September 2021, as we discuss the creation of the vast AfCFTA regional market and its opportunities to boost inter-African trade, attract foreign direct investment, and accelerate growth.
Through the collaboration of 4 French Chambers in Africa and with the support our partner LEX Africa, a leading regional law firm network, this event will deliver the expertise of 16 high-level speakers across 4 panels to provide you with the relevant knowledge and insight into this strategic agreement.

AGENDA
IN PARTNERSHIP WITH

LEX Africa is a legal network of leading law firms in over 25 African countries and is Africa's largest legal alliance. Each member is an independent law firm whose key specialist focus is on general corporate and commercial law as well as litigation and dispute resolution.
Thank you to their participating firms on this event:
Werksmans Attorneys, South Africa
Kaplan & Stratton Advocates, Kenya
Scanlen & Holderness, Zimbabwe
Bentsi-Enchill, Letsa & Ankomah, Ghana
Giwa-Osagie & Co, Nigeria
A COLLABORATION OF REGIONAL PARTNERS