Managing Racial and Gender Bias in Artificial Intelligence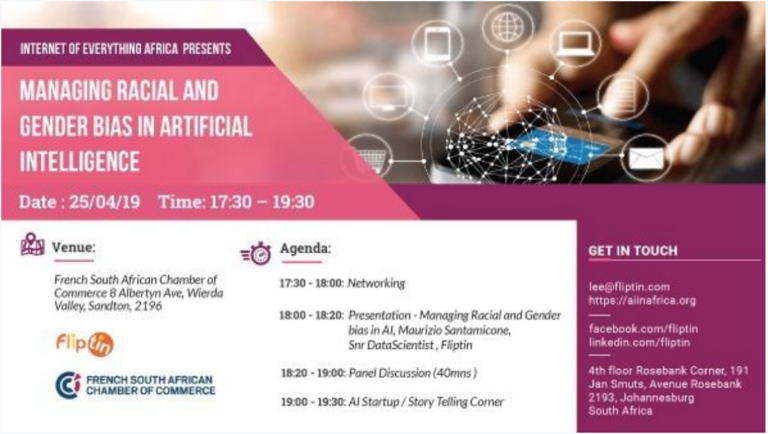 New event series: The Internet of Everything
Welcome to our new event series – The Internet of Everything! We are delighted to host this new event series, spearheaded by our Platinum Member, Fliptin.
The Internet of Everything provides the opportunity for aspiring start-ups to pitch their ideas to top French and South African Companies. This is a great opportunity to provide a platform for tomorrows innovators. This series also aims to bring together the incubators, corporates and idea generators.
You can either register to pitch an idea or to attend and contribute to the conversation of AI.
Join us to meet start ups, pitch and tell us about your story or know more about Artificial Intelligence!
Managing Racial and Gender Bias in Artificial Intelligence
Can machines discriminate? In this though provoking conversation we examine what AI developers, users, and policymakers should keep in mind to create a healthy AI ecosystem.
As you probably understood already, for this first The Internet of Everything event we are going to talk about Managing Racial and Gender Bias in Artificial Intelligence!
Contact us here to pitch your idea
Do you want to be a panelist? Contact us here
Schedule
Thursday 25 April 2019
17:30 - 18:00
Networking
18:00 - 18:20
Presentation of Maurizio Santamicone (Senior Data Scientist) on "Managing racial and gender bias in artificial intelligence".
18:20 - 19:00
Panel discussion
19:00 - 19:30
Story Telling Corner.
Four startups will pitch and tell us their story in a few minutes!