Companies news
Saint-Gobain Gyproc Plasterboards awarded Global Green Tag Certification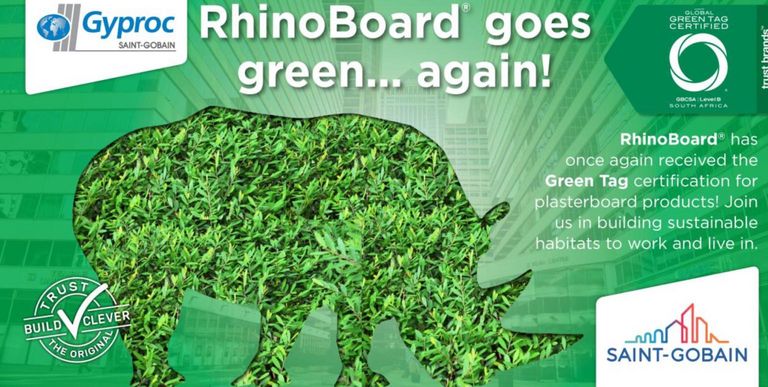 Saint-Gobain Gyproc's range of Plasterboards for walls and ceilings has achieved the prestigious Global Green Tag Certification earning GreenRate Level C.
The certification of Gyproc plasterboards is recognised by the Green Building Council of South Africa (GBCSA) as a product certification standard for the Materials Fit out Calculator in Green Star SA Interiors v1 Rating Tool. It is recognized for certifying interiors fit-out, in the Assemblies category.
Saint-Gobain Gyproc's Plasterboards including Gyproc RhinoBoard, RhinoBoard FireStop, RhinoBoard DuraLine, RhinoBoard MoistureResistant and RhinoBoard SoundBloc all consist of an aerated or foamed gypsum core encased in 100% recycled paper liner. The range of performance boards can be used for interior walls and ceilings in residential, commercial and industrial buildings, where thermal, acoustic or fire rating criteria have been specified.
In addition, the products do not contain significant quantities of substances that have harmful ecological or health impacts. The certification also affirms that the products were not sourced using processes harmful to high conservation value and/or remnant natural ecological communities or bio-reserves. The products do not create major environmental or health degradation.
Saint-Gobain promotes sustainable construction and develops innovative solutions for the construction and renovation of buildings that are energy efficient, comfortable, healthy and aesthetic, while preserving natural resources.