MAZARS EGOLI ART FAIR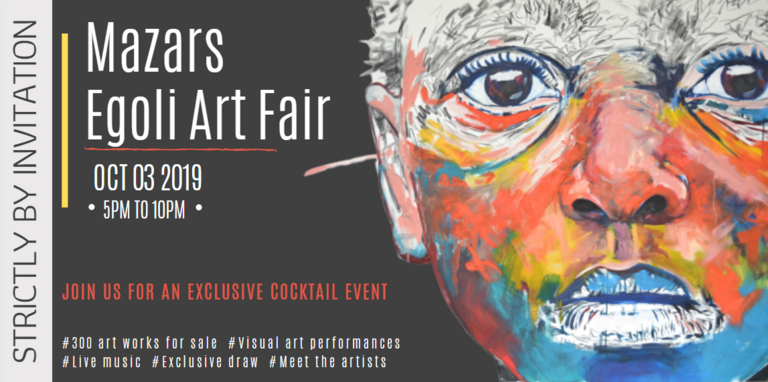 Thursday 03 October 2019 From 5PM to 10PM
Mazars is pleased to invite you and your partner to their exclusive MAZARS EGOLI ART FAIR.
In partnership with Investec Private Banking and pinpoint one human resources, the main objective is to provide a platform for local upcoming artists to showcase their unique work and create opportunity for you to have access to be the first to purchase these art works. It is their mission to promote and support South African artists in their journey to establish themselves as successful artists globally.

Join Mazars for this exclusive evening to meet other great people and these talented artists whilst you are enjoying good food and drinks, and celebrate joy de vivre with them!
ABOUT THE PROJECT
Mazars & the Gavin Project have teamed up in a unique collaboration to give back to South Africa by growing and nurturing SA artistic talent from the ground roots upwards as well actively creating viable platforms for emerging artists to sell their work on an ongoing basis and in turn an opportunity to build their status and careers as artists in South Africa and beyond.
The Gavin Project has carefully curated the Mazars Boardrooms in Johannesburg with hand-picked artworks by various emerging artists with the aim of showcasing the works to a corporate clientele and discerning guests on a regular basis. Be it landscapes or portraits, local artists always offer something original and unique. Most pieces are designed without the latest technologies to assist or speed up the process, therefore these handmade pieces on show are truly one-of-a-kind.

CLICK HERE to read Daily Maverick "Put your money where your art is" article and HERE to register!
The EGOLI ART FAIR will be preceded of The Annual Meet & Greet of the FSACCI. This Meet & Greet will be the occasion to welcome our new members and Directors in the network, and in particular extend a warm welcome to our new Ambassador H.E. Aurelien Lechevallier.