Event report
Meet & Greet | Mazars Egoli Art Fair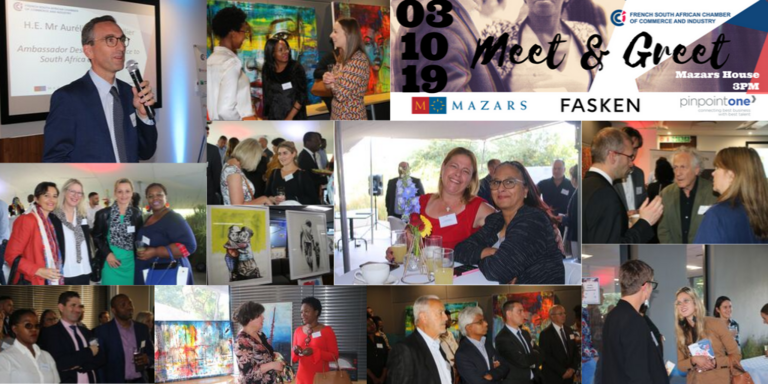 On Tuesday 3 October we held our annual 'Meet & Greet' and kicked off our new agenda for the coming months!
This Meet & Greet was the occasion to welcome our new members, directors in the network but also extend a warm welcome to our new Ambassador H.E Aurelien Lechevallier.

This year's Meet & Greet was an ode to South African Art thanks to our host and sponsor Mazars and its prestigious Egoli Art Fair which followed our Meet & Greet: 300 art works, live music, live painting and a photo expo!
It was great to meet all the newcomers to the network, and connect and strengthen the partnerships with our members. We are excited about our upcoming activities and encourage all members and partners to get involved and help take our business community to new heights.
Thanks to FASKEN, Mazars & pinpointone Human Resources for your contributions in helping connect and strengthen our network on this occasion.
Check out our new Video and see how you can best utilise the FSACCI Platform to grow your business through:
- business connections
- Visibility
- Info/expertise sharing
Click here to watch the video.