Partners • Meeting & Exchange • Company visit
French Minister Delegate Mr Franck Riester's official visit to South Africa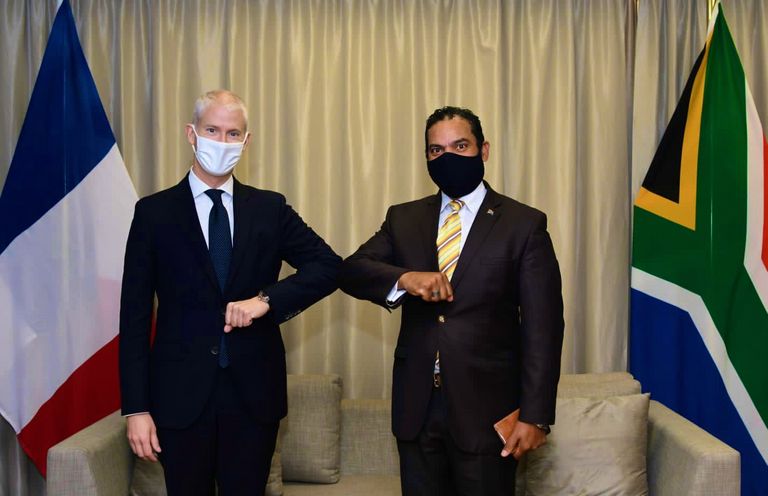 French Minister Delegate for Foreign Trade and Economic Attractiveness, Mr Franck Riester, visited South Africa from 2 to 4 November 2020.
Mr Franck Riester led a delegation from the French Ministry of Foreign Affairs among which French Member of Parliament and representative of French citizens abroad, Amélia Lakrafi, as well as 12 companies in the fields of innovation, agri-business, health and medical equipments.
During his three-days visit, Mr Franck Riester met with South African Minister of Trade, Industry and Competition, Mr Ebrahim Patel, to raise bilateral trade and economic relations, and with Mr Alvin Botes, Deputy Minister for International Relations and Cooperation.
Mr Franck Riester also met with business leaders and entrepreneurs in both Johannesburg and Cape Town, including:
Leroy Merlin in Greenstone to find out more about their spectacular growth in South Africa and key partnerships with local startups and Agence Francaise de Developement

L'Avenir Wine Estate, where a wine industry round table was presented, to discuss opportunities for collaboration between France and South Africa.
During his visit, Mr Franck Riester also addressed the French community in South Africa together with H.E. Ambassador of France to South Africa M. Aurélien Lechevallier and Sonia Doña Perez, Consul General of France in Johannesburg.