Event report
Back To | e-FSACCI Coffee Table on Women Entrepreneurship Development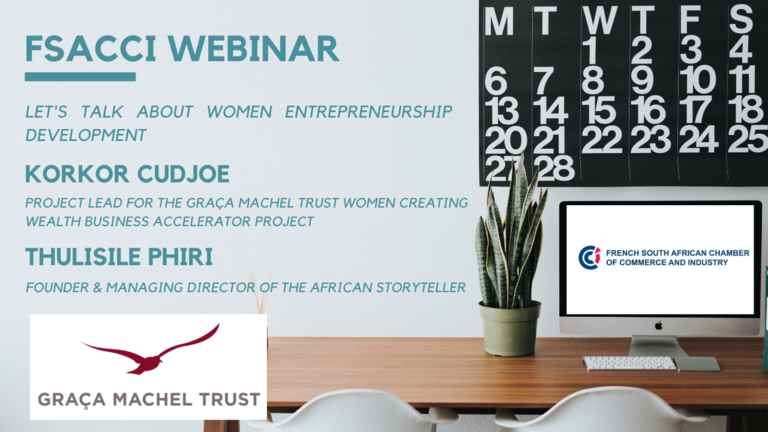 In partnership with the Graça Machel Trust Women Creating Wealth Programme
On Thursday August 12th 2021, FSACCI hosted our third e-FSACCI Coffee Table on 'Women Entrepreneurship Development: Partnering for Growth' in partnership with the Graça Machel Trust.
So often in business, and probably more particularly for small business owners and entrepreneurs, it is the partnerships and business collaborations that are formed which can be the greatest means to growth. The importance of collaboration and partnerships are realities that all within the business sector must face at one point or another. Of even greater importance is how one can go about fostering those enduring partnerships and alliances which will be crucial to the growth and longevity of their enterprises.
In this e-FSACCI Coffee Table, Project Lead for the Graça Machel Trust Women Creating Wealth Business Accelerator Project, Korkor Cudjoe, and Founder and Managing Director for The African Storyteller, Thulisile Phiri gave insights into the need for women entrepreneurs to build alliances and partnerships as a means to upskill, strengthen their confidence, and accelerate their capacity to scale their businesses.