Event report
Back to | Women in Business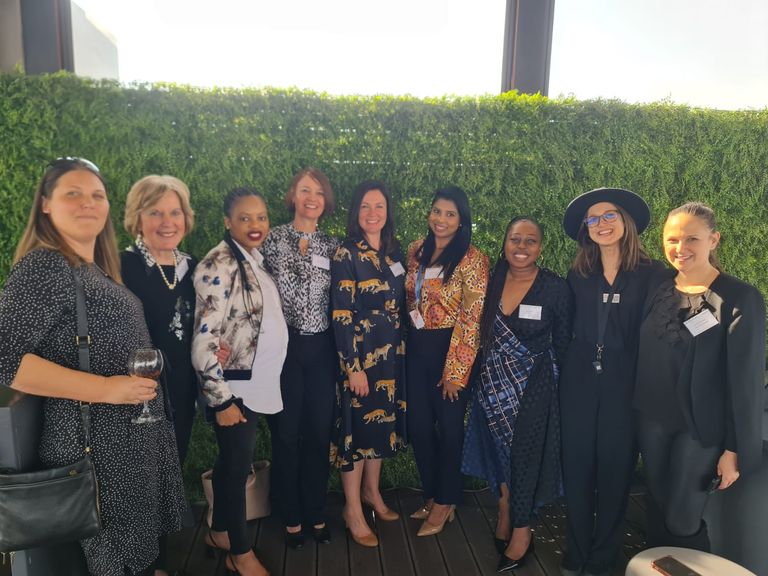 The FSACCI and Mazars in South Africa hosted the Women in Business event on Friday on Mazars' rooftop in front of a great audience. It was an inspiring and interactive discussion facilitated by our moderator Tebogo Sibidla to address wellness, equity and empowerment.

The session brought together 6 panelists to share their journeys and aimed to draw insights into how:
- awareness and education are crucial to grow a culture collectively
- the use of technology to deal with wellness and mental health issues is essential to provide the right care at the right time
- entrepreneurial and mentorship program is a must to empower the less experienced and help them find their power

A special thanks to our panelists and moderator for contributing to the panel discussion; as well as Mazars in South Africa for arranging a quality lunch with a great view of Joburg !
MEET THE PANEL:
Auguste (Gusti) Coetzer – CEO at People Power Placements
Mandy Muchnick (Benjamin) Muchnick - Founding team & CFO at Join Panda
Zizikazi Vikilahle – Director at Mazars
Lesley Morphet – Partner at Fasken
Rochelle Murugan CA (SA), RA Murugan – Head of Audit at Mazars
Diana Granoux – Founder & Director at Leopard Voyage

MODERATOR:
Tebogo Sibidla - Director at Werksmans Attorneys

AGENDA:
12h30: Welcoming
13h00: Wellness at Work - Auguste Gusti Coetzer / Mandy Muchnick
13h20: Equity in the workplace - Zizikazi Vikilahle / Lesley Morphet
13h40: Women's Empowerment - Rochelle Murugan / Diana Granoux
14h00: Q&A followed by networking
15h00: End of the event