Companies news
MAZARS South Africa Recognised by SAPSA!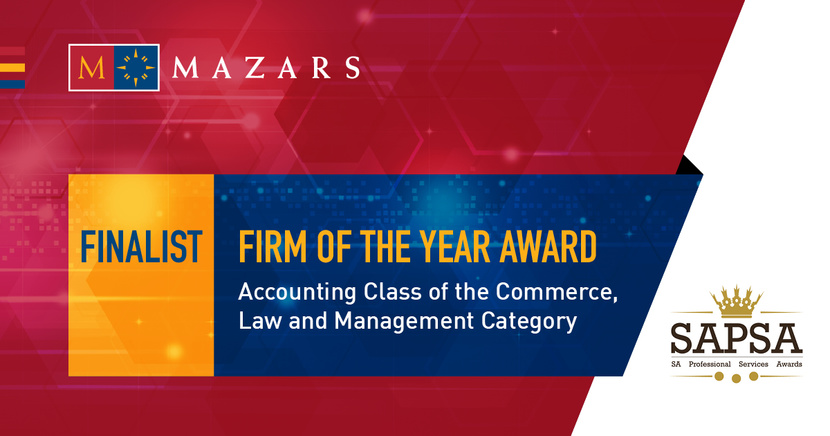 Mazars South Africa has been nominated for a prestigious SAPSA award (SA Professional Services Award), in the category for Firm of the Year in the Accounting Class of Commerce, Law and Management.
SAPSA recognises the professional excellence of firms and individuals across various industries, including accounting, management consulting, architecture, legal, quantity surveying, and engineering.
Mazars South Africa was selected based on their efforts to prepare the youth for the workplace through its Youth Empowerment Initiative, which has achieved measurable and sustainable success. The judges also noted the significant strides that the firm has made in 2019, winning the audit of Sygnia Group and breaking new ground with the launch of their financial services offering. Added to this, the firm was a recent recipient of an award from the French Consulate.
Mazars South Africa's leadership was also acknowledged, with Anoop Ninan being nominated as one of the finalists for Leader of the Year.
Anoop said: "It is an honour to be nominated for this award, however the credit for this does not only belong to me, but is shared with my Co-CEO, Michelle Olckers and the rest of the leadership team. I am grateful to accept this nomination as an ambassador for Mazars South Africa and that we are able to share our story. "
The SAPSA awards are sponsored by Sanlam Life Insurance Limited, and this year the ceremony will be hosted at Monte Casino in Johannesburg on 19 March.
About Mazars South Africa
Mazars South Africa is a top-six audit, tax and advisory firm by audit fee income, and one of Africa's largest audit firms. We work with a wide range of clients – from private clients and local businesses to large corporate companies and global organisations.