Companies news
Thief and Wine Thief are getting together for a wine-tasting on 18 March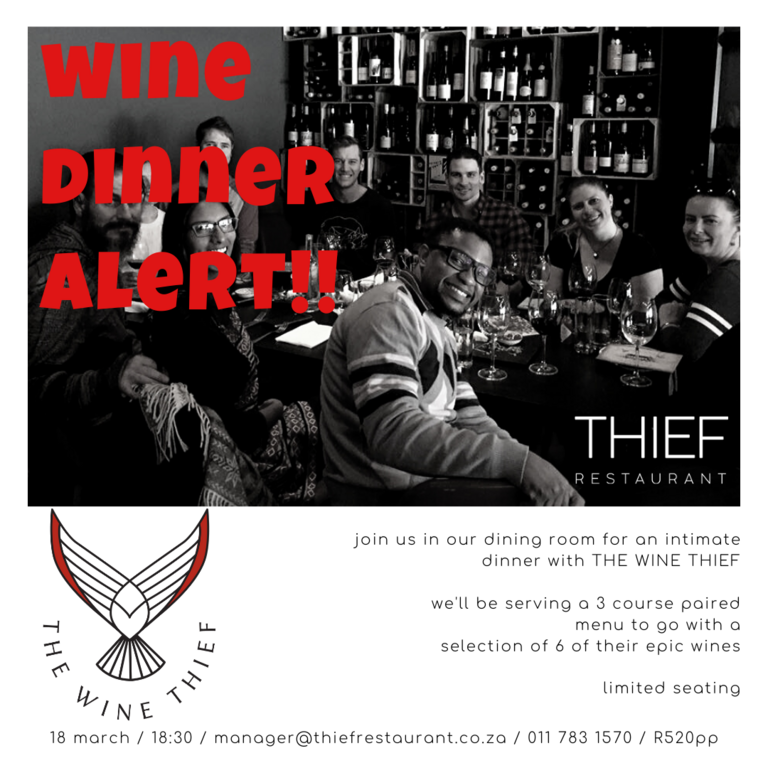 The Thief Restaurant and Wine Thief are getting together to host you for a wine-tasting on Wednesday 18 March at 18:30.
Not only are they stealing your time but they are also planning on stealing your hearts with this small-batch creations by Ewan Makenzie with a Sommelier-inspired angle alongside select, esteemed winemakers from around the cape. A collaboration showcasing unique styles and cultivar expressions that both educate and inspire the consumer. If you are into your wine or a beginner that is willing to learn, this is an absolute must!

CDS Viura VonkelWyn 2019
CDS Chenin Blanc 2019
Marsanne 2017
Cape White 2018
Mourvèdre 2018
Nooer 2018
Thief will be providing a 3 course meal with these incredible wines. To book your spot please contact: manager@thiefrestaurant.co.za.
R520 per person. Space is limited.