COVID-19 • Companies news
French companies (CCE) support small black-owned businesses in Nellmapius community during Covid-19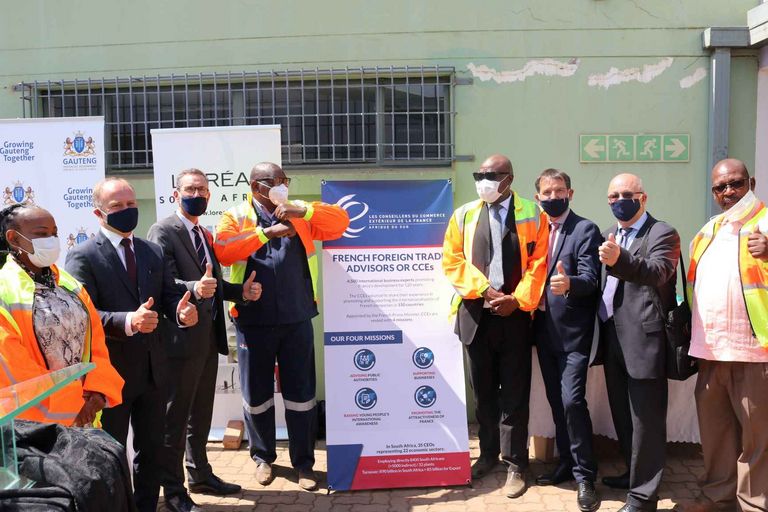 Foreign Trade Advisors & the Embassy of France handed over PPEs and sanitizers to the Gauteng Province in support of small black businesses.
Foreign Trade Advisors of France in South Africa (CCEs) and the Embassy of France, brought 35 CEOs of large French Groups together as part of this initiative.
CCE regroups 35 French companies present in South Africa employing 15,000 South Africans.

CCE President and CEO Saint-Gobain Africa, Mr Jean-Claude Lasserre said "French Business' have been active for years in SA. Last year 10 of our companies pledged to invest R20 Billion in SA over the next 5 years. This demonstrates our long term commitment, particularly in Gauteng, where most of our African Headquarters are located. This PPE donation to Black Business SME's in Nellmapius is part of our social responsibility to support Gauteng economic recovery by allowing 1500 employees of local SME's to work in full safety."
From left to right: Deputy Minister of Trade & Industry Fikile Majola, CEO L'Oréal Gilles Antoine, Ambassador of France Mr. Aurélien Lechevallier, Gauteng Premier David Makhura, Gauteng MEC for Economic Development Morakane Mosupyoe, CCE President Jean-Claude Lasserre, FSACCI Chairman Dr Yves Guénon, and Tshwane head administrator Mpho Nawa.